TC21 MOBILE COMPUTER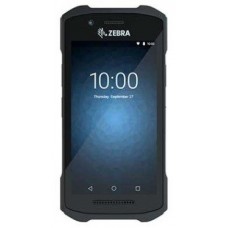 Zīmols:
Zebra
Pieejamība:
Ir pieejams
Cena: 556.00Eur
Bez Nodokļa: 459.50Eur
Dimensions
With standard battery:
6.22 in. L x 3.11 in. W x .0.54 in. D
158 mm L x 79 mm W x 13.7 mm D
With extended battery:
6.22 in. L x 3.11 in. W x .0.68 in. D
158 mm L x 79 mm W x 17.3 mm D
Weight
8.32 oz./236 g with standard battery
Display
5.0 in. color HD (1280 x 720); LED backlight; Corning® Gorilla® Glass
Imager Window
Corning® Gorilla® Glass
Touch Panel
Capacitive Touch Panel; multi-touch
Power
Removable/serviceable rechargeable Li-Ion
Standard Capacity 3100 mAh
Enhanced Capacity 5400 mAh
Charge in under 4 hours (10 hours = 1 shift)
Expansion Slot
One 128 GB micro SD slot
SIM
1 Nano SIM slot; optional eSIM (TC26 only)
Network Connections
1 USB 2.0 OTG - host/client; Type C connector
Notifications
Audible tone; multi-color LEDs; vibration
Keypad
On-screen keypad
Audio
Speaker - 1 Watt (94dBA)
Voice support (Internal speaker/microphone)
Two (2) microphones
Buttons
Scan on each side; volume up/down; power;
push-to-talk (PTT) keys
CPU
Qualcomm SnapdragonTM 660 octa-core, 1.8 GHz
Operating System
Android 10 with built in support for a future
Android release
Memory
4 GB RAM/64 GB Flash memory; 3 GB RAM/32 GB Flash memory; 2 GB RAM/16 GB Flash memory
(not available in all markets)
Security
Verified boot, secure boot
Operating Temp.
14°F to 122°F / -10°C to 50°C
Storage Temp.
-30°F to 158°F / -30°C to 70°C
Humidity
5% - 95% non condensing
Drop Spec.
4 ft./1.2 m drop to concrete per MIL-STD 810G across operating temperature
Tumble Spec.
300 tumbles, 1.6 ft./0.5 m
Sealing
IP67
Vibration
4g peak; 5Hz to 2kHz; 1 hour duration per axis
Thermal Shock
-40°C to 70°C rapid transition
10 cycles: (1 cycle = 1.25 hours at -40°C and 1.25 hours at 70°C)
Electrostatic Discharge (ESD)
+/-15 kV air discharge, +/-8 kV direct discharge; +/-8 kV indirect discharge
| | |
| --- | --- |
| Light Sensor | Automatically adjusts display backlight brightness |
| Motion Sensor | 3-axis accelerometer with MEMS Gyro |
| Proximity Sensor | Automatically detects when the user places the handset against head during a phone call to disable display output and touch input. |
Scanning
SE4100 1D/2D imager
SE4710 1D/2D imager
Camera

Rear camera 13 MP; optional front camera 5 MP

NFC
Integrated; High RF output power; MIFARE, ISO 14443 A&B , FeliCa , ISO 15693 and NFC Forum supported cards; read range up to 50 mm
Radio Frequency Band (TC26 only)

TC26 North America

UMTS: B2/B4/B5
LTE: B2/B4/B5/B7/B12/B13/B14/B17/B25/B26/B66
LTE: Category 6

TC26 Rest of World

GSM: 850/900/1800/1900
UMTS: B1/B2/B3/B4/B5/B8/B9/B19
LTE-FDD: B1/B2/B3/B4/B5/B7/B8/B19/B20/B28
LTE-TDD: B38//B40/B41
LTE: Category 6

TC26 China

GSM: 850/900/1800
UMTS: B1/B5/B8
LTE-FDD: B1/B3/B5/B7/B8
LTE - TDD: B38/B39/B40/B41
LTE: Category 6

Voice Communications
Optional Push-to-Talk (PTT) Express* Mobility DNA software application for instant PTT walkie-talkie style calls inside the four walls.

Optional Workforce Connect Push-to-Talk (PTT) Pro* Mobility DNA easy-to-deploy, cost-effective subscription-based software application that provides instant PTT walkie-talkie style calls inside and outside the four walls via an easy-to-deploy subscription service.

Optional Workforce Connect Voice* to turn TC21/TC26 devices into fully-featured PBX handsets with a custom interface that makes it easy to execute even the most complex telephony features — eliminating the need to purchase and manage additional voice-enabled devices.
GPS
GPS with A-GPS: Glonass; BeiDou; Galileo
WLAN Radio
IEEE 802.11 a/b/g/n/ac/d/h/i/r/k; Wi-Fi™ certified; IPv4, IPv6, 1x1 MU-MIMO
Data Rates

2.4 GHz: 802.11b/g/n — 20MHz, 40MHz — up to 150 Mbps

5 GHz: 802.11a/g/n/ac — 20MHz, 40MHz, 80MHz — up to 433 Mbp
&am
Rakstīt atsauksmi
Jūsu Vārds:
Jūsu atsauksme:
Piezīme: HTML netiek atbalstīts, lūdzu izmantojiet standarta tekstu!
Vērtējums:
Slikts
Labs
Ievadiet kodu no redzamā attēla: