Dolphin CT50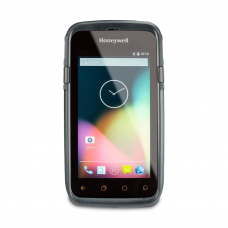 Cena: 1,237.00Eur
Bez Nodokļa: 1,022.31Eur
MECHANICAL
Dimensions (L x W x H)
160 mm x 82.5 mm x 19 mm
(6.3 in x 3.2 in x 0.75 in)
Weight
342 grams (12.1 oz) with battery pack
ENVIRONMENTAL
Operating Temperature
-20°C to 50°C (-4°F to 122°F)
Storage Temperature
-30°C to 70°C (-22° to 158°F)
Humidity
Humidity 0 to 95% relative humidity (non-condensing)
Drop
2.4 m (8 ft) to concrete at room temp per MIL-STD 810G
1.5 m (5 ft) to concrete at -10ºC to 50ºC temperature range
1.2 m (4 ft) to concrete down to -20ºC
Tumble
Exceeds 1,000 1.0 m (3.3 ft) tumbles per IEC 60068-2-32 specification
ESD
± 15KV Air and ± 8KV Direct
Environmental Sealing
Independently certifiedto meet IP67 standards for moisture and particleintrusion
WIRELESS CONNECTIVITY
WWAN
WWAN Radio (ATT / VZW / NA)

LTE (4G) Quad Band (Bands 2, 4, 5, 17)
UMTS/HSPA+ (3G) Quad Band (Bands 1, 2, 5, 8)
GSM/GPRS/EDGE Quad-Band (850/900/1800/1900MHz)
Dual Band 1xRTT/EV-DO (Bands BC0, BC1)

WWAN Radio (EU) LTE (4G)

Tri-Band (Bands 3, 7, 20)
UMTS/HSPA+ (3G) Quad Band (Bands 1, 2, 5, 8)
GSM/GPRS/EDGE Quad Band (850/900/1800/1900MHz)
WLAN
IEEE 802.11 a/b/g/n/ac; Wi-FiTM certified
WLAN Security (Windows)
OPEN, WEP, WPA/WPA2 (Personal and Enterprise)
Supported EAP
TLS, PEAP-MS-CHAP-V2, TTLS
WLAN Security (Android)
OPEN, WEP, WPA/WPA2 (Personal and Enterprise)
Supported EAP
TLS, PEAP, TTLS, PWD, FAST, LEAP CCX Version 4 certified (Android only)
Bluetooth
Class 2 V4.0 Bluetooth
Supported Bluetooth Profiles
HFP, PBAP, A2DP, AVRCP, OPP only
NFC
Integrated Near Field Communication
VoIP
Supported
VPN
IPSec V4/L2TP, PPTP
Push to Talk (PTT)
Supported
GPS Supported Protocols
GNSS Receiver for GPS and GLONASS
SYSTEM ARCHITECTURE
Processor
2.26GHz Qualcomm Snapdragon 801 quad-core
Operating System
Windows 10 IoT Mobile Enterprise, Android 6.0 Marshmallow
Memory
2 GB RAM, 16 GB Flash
Display
4.7" High Definition (1280x720) brightcolor LCD with backlight, outdoor viewable,optically bonded to touch panel
Touch Panel
Rugged multi-touch capacitive touch panel, optically bonded for extra durability and better sunlight viewability. Automatic detection and configuration utilizing mutual and self-capacitance modes for water rejection and use with many off-the-shelf gloves.
Keypad
On-screen keypad, Dual action side scan triggers, Volume up / down, Camera, Power button
Audio
Speaker, T3/M3 HAC compliant, dual microphone support with noise cancellation. PTT support and Blutetooth wireless headset support.
I/O Ports
Custom IO connector
Camera
8.0 megapixel color camera with autofocus and advanced software features for better image quality.
Sensors
Ambient Light Sensor, Proximity Sensor, Accelerometer, Gyroscope, Magnetometer, Pressure Sensor
Storage Expansion
User accessible Micro SD Card up to 32GB (SDHC/SDIO compliant).
Battery
Li-Ion, 3.6V, 4040mAh with integrated fuel gauge
Hours of Operation
12+ Hours
Decode Capabilities
Honeywell N6600 Slim Imager Engine (1D/2D bar code symbologies) Honeywell SDKs for Android and Windows
Application Software
Honeywell Powertools and Demos
Rakstīt atsauksmi
Jūsu Vārds:
Jūsu atsauksme:
Piezīme: HTML netiek atbalstīts, lūdzu izmantojiet standarta tekstu!
Vērtējums:
Slikts
Labs
Ievadiet kodu no redzamā attēla: