Dolphin 75e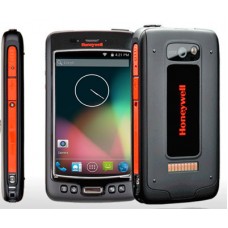 Cena: 1,334.03Eur
Bez Nodokļa: 1,102.50Eur
MECHANICAL
Dimensions
Standard Battery: 134 mm x 73 mm x 18 mm (5.3 in x 2.9 in x 0.7 in)
Extended Battery: 134 mm x 73 mm x 23.9 mm (5.3 in x 2.9 in x 0.9 in)
Weight
Standard Battery: 204 g (7.2 oz)
Extended Battery: 244 g (8.6 oz)
ENVIRONMENTAL
Operating Temperature
-20°C to 50°C (-4°F to 122°F)
Storage Temperature
-25°C to 70°C (-13°F to 158°F)
Humidity
0 to 95% relative humidity (non-condensing)
Drop
Withstands multiple 1.2 m (4 ft) drops to concrete, all axes
Tumble
Exceeds 1,000 (0.5m) tumbles per IEC 60068-2-32 specification (standard battery)
Exceeds 300 (0.5m) tumbles per IEC 60068-2-32 specification (extended battery)
ESD
± 15KV Air and ± 8KV Contact
Environmental Sealing
Independently certified to meet IP67 standards for moisture and particle intrusion
SYSTEM ARCHITECTURE
Processor
2.26GHz Qualcomm Snapdragon 801 quad-core
Operating System
Windows Embedded 8.1 Handheld, Android 4.4.4 KitKat
Memory
2GB RAM X 16GB FLASH
Display
4.3" WVGA (480 x 800), super bright, sunlight viewable
Touch Panel
Multi-touch projected capacitive touch, optically bonded for extra durability and better sunlight viewability, works with many offthe-shelf gloves and when wet
Keypad
WE8H: Dedicated center scan button, back button, home button, volume up and down keys, power button. Programmable triangle and circle buttons.
Android: Programmable scan keys (center, left, right scan key), option to launch a user selectable app
Audio
Speaker, digital microphone with echo and noise cancellation. Focus on VoIP quality.
I/O Ports
Micro USB, 3.5 mm headphone/mic combo jack
Camera
8.0 megapixel camera with autofocus and flash with advanced software features for better image quality.
Sensors
Accelerometer, ambient light, proximity, gyroscope, compass
Storage Expansion
User accessible microSD slot (SDHC compatible). Please check with your Honeywell representative for available qualified card options
Battery
Standard: Li-ion 3.7 V, 1670 mAh
Extended: Li-ion 3.7 V, 3340 mAh
Hours of Operation
Standard: 6+ hours
Extended: 12+ hours
Decode Capabilities
Dedicated imager capable of decoding standard 1D and 2D bar code symbologies
Development Environment
Honeywell SDKs for Android and Windows
HSM Application Software
Honeywell Powertools and Demos
Warranty
1 year factory warranty
WIRELESS CONNECTIVITY
WWAN
No WWAN configuration
WLAN
1x1 IEEE 802.11 a/b/g/n/ac
WLAN Security
WE8H: OPEN, WEP, WPA2-PSK/Enterprise, PEAPv0/MSCHAPv2, EAP-TLS, EAP-TTLS
Android: OPEN, WEP, WPA2-PSK/Enterprise, PEAPv0/MSCHAPv2, EAP-TLS, EAP-TTLS and CCKM
Bluetooth®
2.4 GHz (ISM Band) Adaptive "frequency hopping" Bluetooth v4.0; Class 2, 10 m (33 ft) line of sight
NFC
Integrated NFC reader
Embedded Secure Element (Android)
Rakstīt atsauksmi
Jūsu Vārds:
Jūsu atsauksme:
Piezīme: HTML netiek atbalstīts, lūdzu izmantojiet standarta tekstu!
Vērtējums:
Slikts
Labs
Ievadiet kodu no redzamā attēla: