MK500 Micro Kiosk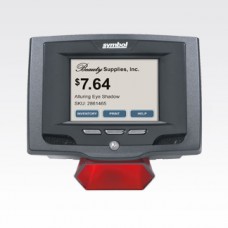 Zīmols:
Zebra
Pieejamība:
Ir pieejams
Cena: 670.90Eur
Bez Nodokļa: 554.46Eur
Choice of laser scanning or imaging technology
Support for all the bar codes you need to capture today — and tomorrow
Motorola signature laser scanning technology
Delivers aggressive performance and accurate capture of all 1D bar codes — even damaged and poor quality; patented Liquid Polymer scan element is frictionless for superior durability and reliability

Motorola advanced imaging technology
Laser style performance on 1D, 2D and PDF bar codes: patented illumination system enables omnidirectional scanning, increasing productivity by eliminating the need to align bar code and scanner
Comprehensive networking options: IEEE 802.11a/b/g and Power-over-Ethernet support
Provides the flexibility to easily connect to your wireless or wired LAN

Compact 5.6 in. x 5.1 in. form factor with a slim 1.7 in./4.2cm profile
Easy to deploy virtually anywhere in the store — from aisle end-caps to shelves, poles and walls

Compliant with VESA standard mounting
Support for standard VESA brackets enables easy mounting of the MK500 on shelves, walls and other store locations

Marketing and signage flexibility
Easy to attach and change signage; allows retailers to draw attention to and better 'advertise' the benefits of the MK500 as well as provide other customer-facing information

3.5 in./8.9cm color QVGA touch screen plus three programmable buttons
Enables deployment of easy-to-use and very intuitive interactive applications

Microsoft® Windows® CE.NET 5.0
Standard operating system reduces application development time

XScale™ 520 MHhz processor; 64MB Flash/64MB RAM; Micro SD slot
High performance architecture provides upport for the most demanding applications

Integrated support for: Internet Explorer 6.0; Symbol Pocket Browser; Visual Studio .Net 2005; SMDK for C, .NET and Java
Enables rapid and cost-effective development of sophisticated applications

Ease of use
Intuitive aiming pattern enables easy scanning of bar codes

Compatible with Motorola's Mobility Software Platform (MSP)
Ability to remotely stage, provision, monitor and troubleshoot devices dramatically simplifies and reduces the costs associated with deployment as well as day-to-day management

Mini USB
Expandable — can easily build on this solution by adding third-party USB peripherals, including printers, magnetic stripe readers, keyboards and more

Multimedia support with stereo speakers
Enables high quality audio and video for highly visual advanced applications
Rakstīt atsauksmi
Jūsu Vārds:
Jūsu atsauksme:
Piezīme: HTML netiek atbalstīts, lūdzu izmantojiet standarta tekstu!
Vērtējums:
Slikts
Labs
Ievadiet kodu no redzamā attēla: